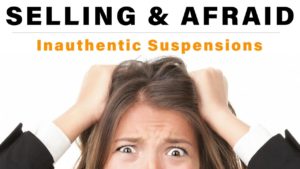 It's a fairly common problem among various Amazon sellers. And more often than not – these type's of suspensions are based on wrong assumptions or even false competitor claims.
This type of problem can occur due to selling knock offs, or the genuine product without sufficient
authorization to resell. Often sellers will buy products from eBay or close-out
sales and then wonder why Amazon does not accept their invoices as provenance.
They must buy from a wholesaler authorized by the brand owner,
with rights of resale. And there is another scenario where competitors,
trying to knock the competition out will make false counterfeit or inauthentic claims
to eliminate their competition. There are two resolutions to these types of
complaints:
1. Provide the invoices from an authorized wholesale distributor and a plan of action;
2. Permanently delete the offending product, offer a refund to customers, and file a plan of action.
Amazon has formed a dragnet to try to eliminate counterfeiters which has
trapped many third-party sellers who actually do have resale rights to genuine
products. These sellers are put through the listing or account suspension
process along with the counterfeiters, and the result can put legitimate
business out of business.
Either way – we can successfully resolve this problem for you. So don't hesitate and contact us anytime.