(NEW!) Join our Telegram channel for the best deals and quick updates!
What Is a Walmart Marketplace (Seller) Account & Can You Buy One?
Yes, you certainly can buy a Walmart marketplace seller account!
Walmart is a consumer goods marketplace & now is considered the #2 marketplace on the internet after Amazon. And by getting an approved seller account – you'll be able to access over 150M monthly users buying on Walmart every day.
So, if you're looking for a fully verified, approved, and onboarded Walmart seller account — you've come to the right place!
Why you should choose us to buy a Walmart seller account?
To begin with, we originally started selling Amazon seller accounts and have been doing this to this day for 4+ years.
Over the years from time to time, our existing clients started asking if we sell Walmart accounts. Unfortunately, we kept saying "no". But seeing the trends and finally when we personally tried selling on Walmart ourselves — we thought that our new and existing clients would benefit greatly from the vast Walmart marketplace.
So we started the intense & interesting process of Walmart marketplace seller accounts verifications and onboarding.
Now we can proudly say — "yes", we can provide you with a perfect, fully approved Walmart seller account!
In addition, creating and getting a Walmart account approved is hard. I mean, very hard.
And the majority of even experienced sellers, don't manage to get the process done. That is why we offer our expertise in this field.
Have a look at a few of our clients' testimonials. We're all about providing the best and top-notch service in the market.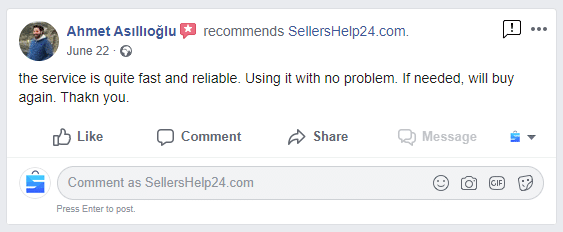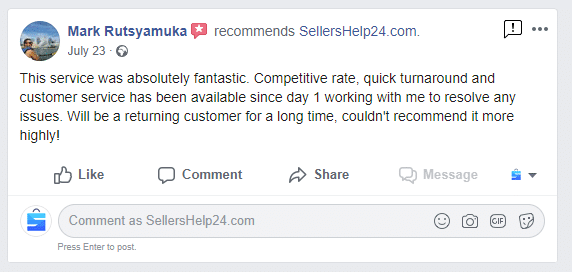 How much do Walmart seller accounts cost?
A fully approved Walmart account's price is rather dynamic.
It will ultimately depend on stock availability, how difficult it is to get approved in the current quarter, and a few other factors.
One thing is for sure — it's certainly more expensive than Amazon and recommended for more experienced sellers.
To get the most up-to-date pricing — contact us on Facebook messenger (icon on the bottom right) or email us.
What's included with the Walmart marketplace account & what will you get after buying one?
Each account comes with all login and other information used when registering, also a free PDF sheet containing instructions on how to safely use and maintain the account. Briefly, this is what you get:
All login information to Walmart marketplace (email, passwords, etc.);
Fully formed LLC (limited liability company);
Fully verified, active & onboarded account;
A safe-use guide explaining how to use the account;
Our full support afterward (for unlimited time).
Why should you buy from us and not someone else, how can you trust us?
We have been in this business for years now. And we have dealt with thousands of customers from all continents around the World.
Having said that — there aren't a lot of people/sellers that can actually supply Walmart accounts on a constant basis.
So you can be 100% sure that we will take the best care of you and your account.

What distinguishes us from other sellers – is that we always strive for 100% customer satisfaction. That's why we will never leave the client alone in any sort of trouble.
We always try to reach the fairest and most satisfactory solution for both sides.
Around ~80% of our clients become our loyal customers.
To start the order process — contact us via Live Chat on the bottom-right corner or email form (button below).
Why you should be interested in Walmart & what is this service for?
Walmart is highly trending and as mentioned with its 150+ million monthly users is the 2nd largest online retailer. Let me give you some quick points on why you should be interested:
Walmart is a huge marketplace;
It is far less volatile and a lot more 'respectful' to 3rd party sellers than Amazon (meaning fewer random suspensions);
It is a lot more profitable than other marketplaces;
Getting approved on Walmart is super-hard, which means less competition for you;
Keep in mind, this service is mainly for more experienced sellers that actually know what they're doing.
Frequently Asked Questions About Buying a Walmart Seller's Account
Is It Legal To Buy A Walmart Seller Account?
Law is the law and Walmart cannot forbid you to use your property or business as you like.
So yes, it is definitely legal, otherwise as mentioned, there wouldn't be hundreds of people buying & selling accounts every day.
Do You Need to Be a USA Resident/Citizen to Sell on Walmart?
Absolutely not. This is not necessary or required. You can be anywhere in the world and successfully operate a Walmart store.
Can You Get a New Account If You Were Previously Suspended on Walmar?
Glad to say — yes! You can certainly have one or even a few if you wish. We use all unique and original details when registering new accounts and provide you with information on how to stay safe and avoid any suspensions.