(NEW!) Join our Telegram channel for the best deals and quick updates!
What kind of Amazon accounts do we sell and can you buy one?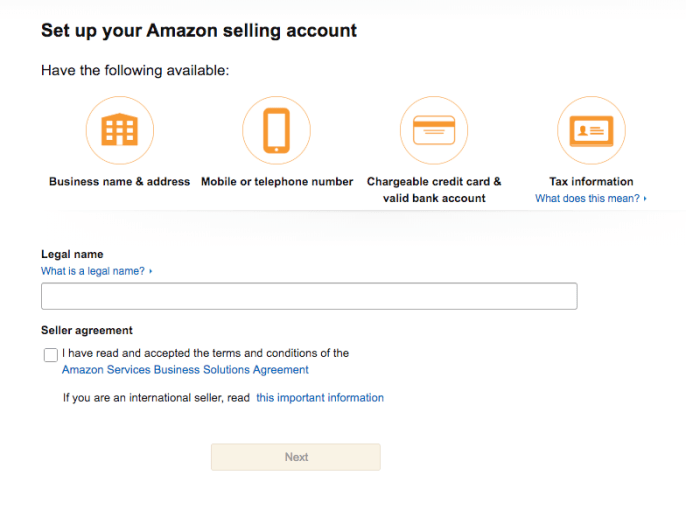 These are professionally created Amazon USA and UK Professional subscription seller accounts (Amazon stores) for sale.
You can buy any number of seller accounts from us (fun fact: we have clients that operate over 50+ Amazon seller accounts alone!).
They are fully verified, approved and ready to sell on Amazon.
We might have something in stock that have sales, a bit of history and a few feedbacks (the cost is higher).
We also have accounts that are delivered as fresh, new and unused before.
Thus, you can be sure that the account is only yours and no one ever 'touched' it in regards of selling on it.
Why you might want to buy an Amazon account from us?
A lot of people want to start selling on Amazon but don't really know how to create an account and get it verified. Others just want to skip the hassle of creating the account(s) themselves. It's especially difficult if you had an account banned/suspended before.
Creating a functional Amazon account becomes increasingly difficult as time goes on, it's especially the case in 2022. So buying an Amazon account — is definitely one of the most tempting and efficient options.
Another case when these accounts (stores) are used – are by experienced Amazon sellers who had their previous accounts banned and who want
to get back on selling again.
Or pro sellers who want to dissipate the business risk and create multiple (sometimes dozens) of different seller accounts.
Thus, noticeably increasing their revenue and leveraging the risk.
Imagine your whole business and income is based on just 1 store. Having in mind that Amazon is very strict and competition from other sellers is fierce – you can lose your one-and-only account quicker than you can imagine.
We had clients who lost their whole family income this way by only 'betting' everything on one single Amazon account.
That's why we recommend at least having 2 separate accounts if you're looking to earn from Amazon some serious income.
Also, we've been in this business for 4+ years now and have a lot of happy customers throughout the time.
Have a look at some of our clients' testimonials. And if you still have questions – contact us directly by email or FB messenger bubble on the bottom-right corner.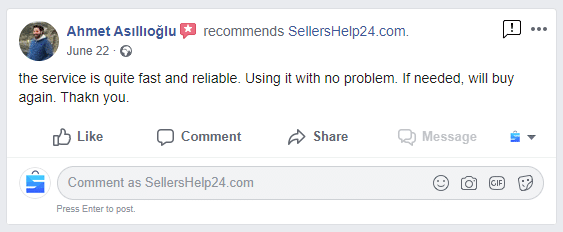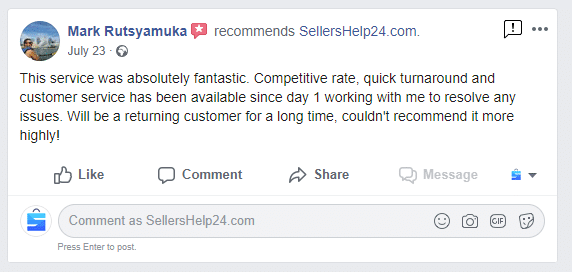 How much do Amazon seller accounts cost?
Sometimes prices change because of the availability of the accounts, the difficulty of the registration process on Amazon and some other factors.
So for that reason, if you need the USA or UK Amazon seller account – drop us a message either on Facebook messenger (icon on the bottom right) or email us.
What's included with the Amazon seller account?
Each account comes with all login and other information used when registering, also a free PDF sheet containing instructions on how to safely use and maintain the account.
Also, account will come with a credit card attached and all necessary files and documents and 2FA (one-time-password) login information.
We deliver each account with 1st month Professional fee ($39.99) already paid.
In some cases we also include a VPS (virtual private server) for a remote login to the account.
To recap, we offer new and fresh accounts that include:
Fully verified and ready to sell account;
A valid credit card;
All login information included (email and etc., phone, address and so on);
A safe-use guide.
Should you choose UK or USA Amazon account?
Main difference between USA and UK accounts is that USA sellers can list their items on American, Mexican and Canadian marketplaces.
While UK accounts are able to sell on United Kingdom, France, Germany, Spain, Netherlands and Italy marketplaces.
What payment methods are available?
At the moment, we accept Payoneer, bitcoin (btc or any other cryptocurrency) and bank transfers (US wire, UK and EU SEPA), also – Paxum.
What do our seller accounts look like?
Here we'll include some screenshots of our Amazon stores.
This is the "Account Settings dashboard":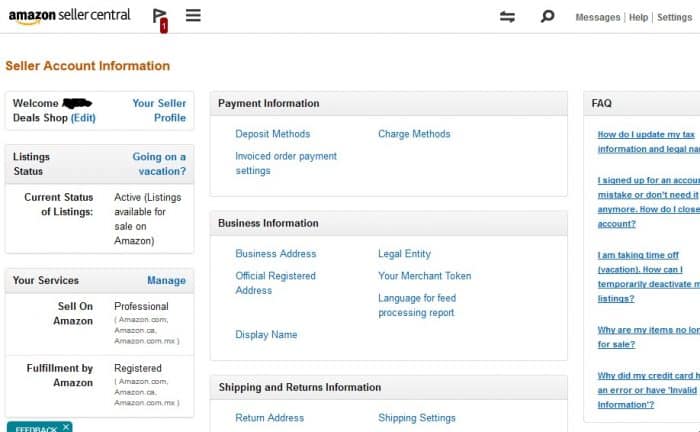 And here you can see the front page dashboard: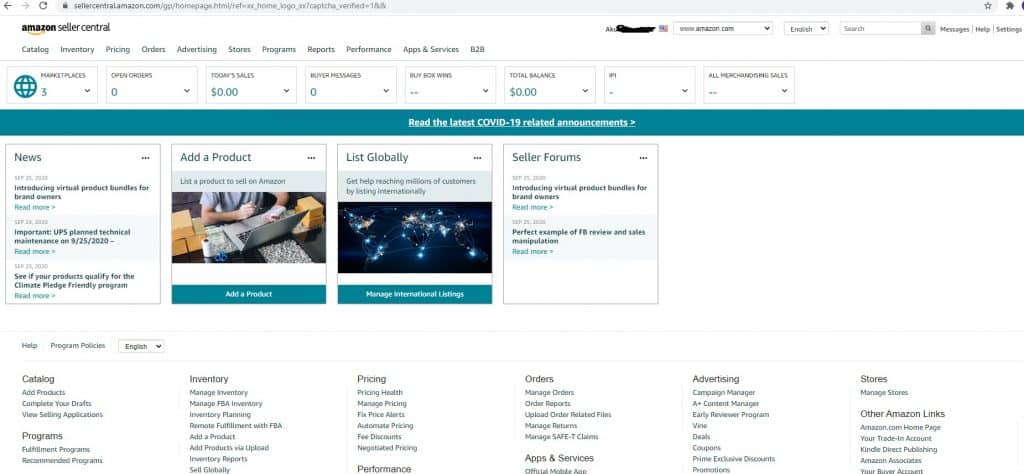 (These are just a few examples. We constantly get new stock).
Buy Aged Amazon Accounts With Feedback and Categories Ungated (is it possible?)
(Beware of Scam Websites, read below)
At the moment WE ARE MIGHT HAVE A FEW AGED AMAZON ACCOUNTS in stock that can look similar to this (please contact us to know the exact stock situation):
Around ~a few months aged (up to a ~year);
Have ~200-300 item sales history (turnover of ~$1000-9000);
Might have a few 4-5 star feedbacks.
While we know this headline of "all categories ungated" sounds good and what most people want, but…
Since we have been in Amazon accounts business for years — we can guarantee you 99% that there are practically NO places online that can offer you super-aged accounts, with lots of feedback, sales and (especially) categories ungated for a cheap price. And by "cheap" I mean $1k-$2k.
A List of Known Scam Websites:
please message us via email or FB messenger on the bottom-right to get a list of scam websites.
we don't want to publicly list them for various reasons.
What we can assure you — there are at least a few websites on google's 1st page that advertise that they have such accounts for $500-$2000. But the reality is — they don't and they keep scamming naive people.
You need to understand that 1 category ungating alone can cost from $300 up to $2000 or more. 1 High end brand like Nike ungating can cost from $4000 and still with no guarantees. So if you see someone claiming they have all categories ungated and brands ungated — you can be 99% sure they're lying.

So please remember the old adage — "if something sounds too good to be true — it probably is".
If you, however, still need a bit aged account with some sales history and feedbacks — let us know via email or FB chat on the bottom-right corner and we'll update you with current stock and prices.
That's why we stay transparent and we let you know that we do not offer super-aged accounts with categories ungated. Don't be naive and fall for cheap and too-good-to-be-true promises by scammers. We had too many customers come to us after getting scammed by other websites.
So don't be naive and stay safe.
Why should you buy from us and not someone else, how can I trust you?
We have been in this business for years now. And we have dealt with thousands of customers from all continents around the World.
Having said that — there aren't a lot of people/sellers that can actually supply accounts on a constant basis.
So you can be 100% sure that we will take good care of you and your account.

What distinguishes us from other sellers – is that we always strive for 100% customer satisfaction. That's why we will never leave the client alone in any sort of trouble. Because we know how hard and sometimes unfair Amazon can be.
Opposite to some other sellers out there – we don't try to blame our customers when some issues occur.
We always try to reach the fairest and most satisfactory solution for both sides.
Aside from that, we invite you to read a few of our clients testimonials by clicking here.
Around ~80-90% of our clients become our loyal customers.
We can also provide proof of our work and account deliveries, for that please contact us.
Quick Video Overview of Our Amazon Seller Accounts Service

* – prices vary on availability of the accounts. Discounts are available for bulk buyers as well.
To order — contact us via Live Chat on the bottom-right corner or email form (button below).
Frequently Asked Questions About Buying an Amazon Seller's Account
Which Seller Account Should I Use?
You choose between two types of seller accounts when signing up on Amazon.
The individual seller account charges $1 on every product you sell. You can also opt for the Professional seller account and pay $39.99 monthly.

Which account you choose depends on the total number of products you sell in a month.
Start with an Individual seller account and switch to a Professional seller account when you start selling more than 40 products monthly.
Should I Get My Products Ungated?
Amazon places restrictions on products in some categories. Streaming media is one of them.
The best way to get your product ungated is to ensure that it follows the requirements of its category.
You can always change the category to an ungated one. Using the wrong one for a product
is counterproductive and is not encouraged.

Is It Necessary to Uniquely Brand My Products?
It is rare to be selling a product that is not already on Amazon. Thousands of merchants like you try to reach the same target audience.
To give your products the best chance possible, you should try to make them stand out
Unique branding is one way to do this. It is also a brilliant way to make your item look
professional.
Do I Have All Resources to Fulfill Orders Myself?
You can fulfil orders on Amazon using the following ways: your shipping carrier or via
Amazon FBA.
Make sure that you have established storing processes, packing, and shipping if you are
doing it yourself. This also requires a warehouse or storage.
Employing the services of a third-party logistics company is also a great approach to fulfilling orders yourself.
How Can I Market Products on Amazon?
Your products need exposure to sell. One way to do this is to implement an Amazon pay-
per-click campaign.
The copies and descriptions you use for your product should be exciting and attention-
grabbing.
Do not forget to add frequently asked questions and keywords to boost your ranking in
Amazon searches.
Include reviews of your product from your first few customers.
Should I File Taxes on My Amazon Earnings?
By obligation, Amazon submits Form 1099-K to U.S. taxpayers who make more than $20,000 and conduct more than 200 transactions in a year.
Amazon tracks earnings and transactions from your activities, eliminating the need for you to do any calculations. When you hit the thresholds, the company will alert you.
Non-U.S. taxpayers should submit a Form W-8BEN to the company.
Are There Any Brand Protection Measures Put in Place by Amazon?
The company is very particular about ensuring that trademark violations are eliminated. This is to help protect legitimate sellers and the integrity of brands.

Enrolling in Amazon's brand registry program helps secure your brand from counterfeit
products. Amazon claims that brands on the program have had fewer infringements.
There are also transparency codes Amazon offers as part of its Transparency program to aid brands who want to ensure customers receive good products.

What Is Seller Feedback?
Seller feedback is used to discover if customers like your products, delivery time, packaging, communication, and customer support.
It affects the status of your Amazon account and your ability to get Buy Box. Customers trust sellers better when they have feedback on their services.
How Do I Keep My Account Healthy?
Your Amazon account will be suspended if the account health goes below the company's
benchmark.
Amazon sends an email first to notify you but as a necessity, put in the effort to keep your
numbers healthy.
The following metrics can ensure your account is safe:
Your order defect rate must be less than one percent.
You should ensure your pre-fulfillment cancel rate is less than two percen
The rate for late shipment should also be less than four percent.
Negative feedback from customers should be low.
How Much Stock Does My Competition Have at FBA Compared to Me?
You should constantly be checking out your competition when selling on Amazon. Your
knowledge about them will help you determine how you can beat them.
Check how much stock they have to estimate the volumes they are selling. Use the steps
below to manually examine a competitor's products.
Visit the Amazon sales page.
Click on the "Used & New" button to get to the list of available sellers.
Choose the competition you want to compare your account against and add their
item to your cart.
Change the product quantity to 10+. Enter 999 and update it.
If the seller has less than 999 items, Amazon will state the total volume available.
This technique doesn't work when there are purchase limits.
What Does It Mean to Have Many Competitors in My Listing?
Find out the number of competitors a product has to help you make better decisions on
pricing and marketing.
If you discover a product has too many competitors, it is best to save your time and
investment efforts.
You can win the buy box if you still decide to compete against all of them. This will help
increase your sales.

What Steps Should I Take to Improve Efficiency?
There are questions you can use as checkmarks to increase your level of productivity.
Should I use Amazon FBA?
What inventory model am I using?
Is my software updated? Are they adding anything to my processes?
The goal is to find just how much money and time you can save in fulfilling orders. If you establish that, you offer your account a solid development plan and marketing points.
How Do I Know My Product Has Reached the End of Its Life Cycle?
Products have reached the end of their lifecycle when you realize they are just costing you
money to store them but make very meagre returns.
You have to be careful when deciding which products qualify or not. Some sell in seasons;
you wouldn't want to wrongly classify them as dead-weight when they are not in season.
To properly determine this, you should study trends and attain input from your target
market. Research is vital here.
Can I Sell or Buy an Amazon Seller Account?
It is legal to sell and buy Amazon accounts though it is not usual.
If you want to sell your account, you need to seek approval from the company. It must
facilitate listing transactions properly.
Immediately after the request is approved, you can transfer the business to the new owner.
People buy Amazon seller accounts all the time for hundreds of thousands of dollars. So yes, you can definitely buy a new one with no problem at all.
Is It Legal To Buy An Amazon Seller Account?
Law is law and Amazon cannot forbid you to use your property or business as you like.
So yes, it is definitely legal, otherwise as mentioned, there wouldn't be thousands of people buying accounts everyday.